[tdc_zone type="tdc_content"][vc_row flex_layout="block"][vc_column width="2/3″][tdm_block_title_over_image title_size="tdm-title-md" open_in_new_window="yes" image_alignment="center" media_size_image_height="122″ media_size_image_width="300″ block_height="280″ tdc_css="eyJhbGwiOnsic2hhZG93LXNpemUiOiI2Iiwic2hhZG93LW9mZnNldC1oIjoiNCIsInNoYWRvdy1vZmZzZXQtdiI6IjQiLCJkaXNwbGF5IjoiIn19″ image="35201″][tdb_single_post_share][td_block_ad_box spot_img_horiz="content-horiz-center" media_size_image_height="37″ media_size_image_width="300″ spot_img_all="35702″ spot_url="https://bhowco.de/advertise-on-bhowco/" spot_url_window="yes" tdc_css="eyJhbGwiOnsicGFkZGluZy1ib3R0b20iOiIxMCIsImRpc3BsYXkiOiIifX0="][tdm_block_column_title title_text="VmFsdmUlMjBXb3JsZCUyMEV4cG8lMjBEJUMzJUJDc3NlbGRvcmY=" title_tag="h2″ title_size="tdm-title-md" tds_title="tds_title3″ tds_title3-title_color="#dd3333″ tds_title3-subtitle_text="International Valve Trade Fair and Conference" tds_title3-line_width="300″ tds_title3-subtitle_space="10″ tds_title3-f_subtitle_font_style="normal" tds_title3-f_subtitle_font_weight="400″ tds_title3-f_subtitle_font_transform="none" tds_title3-subtitle_color="#000000″ tds_title3-line_color="eyJ0eXBlIjoiZ3JhZGllbnQiLCJjb2xvcjEiOiIjMjMyZDM1IiwiY29sb3IyIjoiIzIzMmQzNSIsIm1peGVkQ29sb3JzIjpbXSwiZGVncmVlIjoiLTkwIiwiY3NzIjoiYmFja2dyb3VuZC1jb2xvcjogIzIzMmQzNTsiLCJjc3NQYXJhbXMiOiIwZGVnLCMyMzJkMzUsIzIzMmQzNSJ9″ tdc_css="eyJhbGwiOnsiZGlzcGxheSI6IiJ9fQ==" tds_title3-line_space="15″][td_block_text_with_title custom_title="Valve World Expo trade show" tdc_css="eyJhbGwiOnsicGFkZGluZy10b3AiOiIxNSIsInBhZGRpbmctcmlnaHQiOiIxNSIsInBhZGRpbmctYm90dG9tIjoiMTUiLCJwYWRkaW5nLWxlZnQiOiIxNSIsInNoYWRvdy1zaXplIjoiNiIsInNoYWRvdy1vZmZzZXQtaCI6IjQiLCJzaGFkb3ctb2Zmc2V0LXYiOiI0IiwiYmFja2dyb3VuZC1jb2xvciI6IiNlZmVmZWYiLCJkaXNwbGF5IjoiIn19″ block_template_id="td_block_template_8″]
Valve World Expo Düsseldorf– International Valve Trade Fair and Conference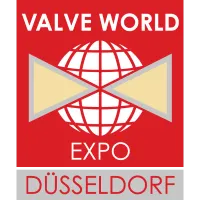 The VALVE WORLD EXPO Düsseldorf trade fair is an international trade fair and congress for industrial valves.
More than 600 exhibitors from over 30 countries present their products and services such as industrial valves, gaskets and sealing materials, as well as valve-related piping products and engineering at the VALVE WORLD EXPO Messe Düsseldorf.
Visitors use the trade fair and conference of the VALVE WORLD EXPO Düsseldorf Messe to get to know the global range of products and services and to analyze the latest technical trends.
Raw material conveying and energy generation on the high seas require technology that functions under extreme conditions.
High-performance valve technology does exactly this.
Fitting and valve technology is indispensable for finding, extracting, processing and transporting resources such as oil and gas and the highly complex processes in the chemical industry.
The population of the world is growing, more water is needed worldwide – in households, in agriculture and in industry. Intelligent valve technology enables water to be used sustainably.
VALVE WORLD EXPO 2022 – 13th International Valve World Expo and Conference
Visitors target group of Messe VALVE WORLD EXPO
Trading of Actuators/Sealings/Valves + others
Manufacturers of Actuators/Castings/Forgings/Sealings/Tubes/Valves + others
Services: Engineering, Developers and Producers of Control Software/Testing Software, Universities and Technical Colleges
Associations and Publishing Houses
Branches of Valve-Users:
Aerospace/Automotive/Biotechnology/(Petro-)Chemical Industry/Food Processing Industry/Machine and Plant Construction/Marine and Offshore Industry/Mining/(Nuclear)
Power Generation/Oil, Gas and LNG/Pharmaceutical and Medical Industries/Pulp & Paper/Shipbuilding/Water and Waste Water Management
VALVE WORLD EXPO and Covid-19
The event will take place as a live exhibition and will feature strict Covid-19 prevention measures, including the latest entry regulations.
Among the safety measures that will be put in place are social distancing, mandatory mask wear, and pre-registration.
Between participants, a social distance of 1.5 meters must be maintained.
They must also complete a registration form ahead of time and provide complete contact information.
The contact form must contain full names, phone numbers, and email addresses.
In indoor areas, apart from exhibition stands, attendees must wear masks.
The Valve World Expo will take place on 3 days from Tuesday, 29. November to Thursday, 01. December 2022 in Düsseldorf.
Participants can expect strict COVID-19 safety measures to be installed at the venue.
Latest information about Covid-19 & Health policy in Messe Dusseldorf center
---
Industry sector
Metalworking, Welding Technology
---
Main product group
Valves and Fittings, Valves, Industrial Equipment, Regulating and Control Technology, Pipelines, Compressors, Pumps, Software, Services, Accessories
---
BHowCo is a well-known Digital marketing for German trade fairs.
You can add your listing for free in our International Germany B2B portal .
Connect to the Exhibitors of this trade show (B2B)
[/td_block_text_with_title][td_block_text_with_title custom_title="FAQ – Frequently Asked Question" block_template_id="td_block_template_8″ header_text_color="#dd3333″]
When is taking place Valve World Expo?
The Valve World Expo will take place on 3 days from Tuesday, 29. November to Thursday, 01. December 2022 in Düsseldorf. It is usually in the month of November. biennially
What is exhibited at Valve World Expo?
At Valve World Expo – International Valve Trade Fair and Conference, there are appointments with national and international exhibitors for Metalworking, Welding Technology, …
Where is taking place Valve World Expo?
Valve World Expo takes place in Düsseldorf, Germany and is held at Messe Düsseldorf Center
[/td_block_text_with_title][vc_row_inner][vc_column_inner][td_block_ad_box spot_img_horiz="content-horiz-center" media_size_image_height="37″ media_size_image_width="300″ spot_img_all="35702″ spot_url="https://bhowco.de/advertise-on-bhowco/" spot_url_window="yes" tdc_css="eyJhbGwiOnsicGFkZGluZy1ib3R0b20iOiIxMCIsImRpc3BsYXkiOiIifX0="][td_block_19 custom_title="Valve World Expo Featured Exhibitors " limit="6″ category_id="9567″ header_color="#dd3333″][/vc_column_inner][/vc_row_inner][vc_row_inner][vc_column_inner][tdm_block_text_image title_text="R2VybWFueSUyMEIyQg==" title_tag="h3″ title_size="tdm-title-md" description="VGhlJTIwZmlyc3QlMjBHZXJtYW55JTIwQjJCJTIwbWFya2V0cGxhY2UlMjBmb3IlMjBJbnRlcm5hdGlvbmFsJTIwRXhoaWJpdG9ycyUyMGluJTIwR2VybWFuJTIwdHJhZGUlMjBmYWlycy4lMjBBZGQlMjB5b3VyJTIwbGlzdGluZyUyMCUyMGZvciUyMGZyZWUuJTIw" button_text="Add listing" button_tdicon="tdc-font-fa tdc-font-fa-chevron-right" button_size="tdm-btn-lg" image="37563″ content_align_vertical="content-vert-center" tds_title="tds_title3″ tdc_css="eyJhbGwiOnsicGFkZGluZy1yaWdodCI6IjEwIiwicGFkZGluZy1sZWZ0IjoiMTAiLCJzaGFkb3ctc2l6ZSI6IjYiLCJzaGFkb3ctb2Zmc2V0LWgiOiI0Iiwic2hhZG93LW9mZnNldC12IjoiNCIsImJhY2tncm91bmQtY29sb3IiOiIjMjMyZDM1IiwiZGlzcGxheSI6IiJ9fQ==" description_color="#ffffff" button_open_in_new_window="yes" tds_button="tds_button8″ tds_button8-background_color="eyJ0eXBlIjoiZ3JhZGllbnQiLCJjb2xvcjEiOiIjZWEwMDAwIiwiY29sb3IyIjoiI2Y5MDAwMCIsIm1peGVkQ29sb3JzIjpbXSwiZGVncmVlIjoiLTYwIiwiY3NzIjoiYmFja2dyb3VuZDogLXdlYmtpdC1saW5lYXItZ3JhZGllbnQoLTYwZGVnLCNmOTAwMDAsI2VhMDAwMCk7YmFja2dyb3VuZDogbGluZWFyLWdyYWRpZW50KC02MGRlZywjZjkwMDAwLCNlYTAwMDApOyIsImNzc1BhcmFtcyI6Ii02MGRlZywjZjkwMDAwLCNlYTAwMDAifQ==" media_size_image_height="212″ media_size_image_width="300″ tds_title3-subtitle_text="Int. Exhibitors in German trade shows" tds_title3-line_width="165″ tds_title3-subtitle_color="#dd3333″ tds_title3-title_color="eyJ0eXBlIjoiZ3JhZGllbnQiLCJjb2xvcjEiOiIjZjRhNTFkIiwiY29sb3IyIjoiI2VmZWZlZiIsIm1peGVkQ29sb3JzIjpbXSwiZGVncmVlIjoiIiwiY3NzIjoiYmFja2dyb3VuZDogLXdlYmtpdC1saW5lYXItZ3JhZGllbnQoMGRlZywjZWZlZmVmLCNmNGE1MWQpO2JhY2tncm91bmQ6IGxpbmVhci1ncmFkaWVudCgwZGVnLCNlZmVmZWYsI2Y0YTUxZCk7IiwiY3NzUGFyYW1zIjoiMGRlZywjZWZlZmVmLCNmNGE1MWQifQ==" button_url="https://bhowco.de/add-directory-listing/" tds_button8-background_hover_color="#104b77″][/vc_column_inner][/vc_row_inner][vc_row_inner][vc_column_inner][/vc_column_inner][/vc_row_inner][vc_row_inner][vc_column_inner][td_block_video_embed video_url="https://youtu.be/aEGjkDtfF58″][/vc_column_inner][/vc_row_inner][tdb_single_post_share][/vc_column][vc_column width="1/3″][td_block_text_with_title custom_title="Advance search" block_template_id="td_block_template_8″ header_text_color="#dd3333″]
[/td_block_text_with_title][td_block_ad_box spot_img_horiz="content-horiz-center" media_size_image_height="250″ media_size_image_width="300″ spot_img_all="35700″ tdc_css="eyJhbGwiOnsibWFyZ2luLXRvcCI6Ii0xNSIsInBhZGRpbmctdG9wIjoiMjAiLCJwYWRkaW5nLWJvdHRvbSI6IjIwIiwic2hhZG93LXNpemUiOiI2Iiwic2hhZG93LW9mZnNldC1oIjoiNCIsInNoYWRvdy1vZmZzZXQtdiI6IjQiLCJkaXNwbGF5IjoiIn19″][vc_empty_space][vc_row_inner][vc_column_inner][td_block_weather tdc_css="eyJhbGwiOnsicGFkZGluZy1sZWZ0IjoiNSIsInNoYWRvdy1zaXplIjoiNyIsInNoYWRvdy1vZmZzZXQtaCI6IjQiLCJzaGFkb3ctb2Zmc2V0LXYiOiI1IiwiYmFja2dyb3VuZC1jb2xvciI6IiMxZTczYmUiLCJkaXNwbGF5IjoiIn19″ custom_title="Dusseldorf Weather" w_key="81be1bb57dd6cca35a188b102bea2ec6″ w_location="Dusseldorf" header_color="#dd3333″ city_color="#ffffff" condition_color="#eff7f5″ frcst_temp_color="#dd8604″ temp_color="#dd9933″ frcst_day_color="#ffffff" sep_color="#232d35″ block_template_id="td_block_template_8″ header_text_color="#232d35″ border_color="#dd3333″][/vc_column_inner][/vc_row_inner][td_block_text_with_title]
[waiting name="Valve World Expo 2022″]
[/td_block_text_with_title][vc_row_inner][vc_column_inner][td_block_text_with_title header_color="#dd3333″ tdc_css="eyJhbGwiOnsibWFyZ2luLXRvcCI6Ii0xNSIsInBhZGRpbmctdG9wIjoiMTUiLCJwYWRkaW5nLXJpZ2h0IjoiMTUiLCJwYWRkaW5nLWJvdHRvbSI6IjE1IiwicGFkZGluZy1sZWZ0IjoiMTUiLCJzaGFkb3ctc2l6ZSI6IjYiLCJiYWNrZ3JvdW5kLWNvbG9yIjoiI2RkOTkzMyIsImRpc3BsYXkiOiIifX0=" custom_title="Valve World Expo at glance" block_template_id="td_block_template_8″ header_text_color="#dd0000″]
EVENT LOCATION
VENUE
Messe Dusseldorf center
DATE
29.11.2022 – 01.12.2022
Tuesday – Thursday, 3 days
Past editions:

27. – 29. November 2018
29 Nov. – 01 Dec. 2016

722 exhibitors
12422 visitors
INTERVAL
biennially
FOUNDED IN
1998
ORGANISER
Messe Düsseldorf GmbH
Messeplatz
40474 Dusseldorf
Germany
Tel: +49 211 4560-01
Fax: +49 211 4560-668
Email: info[@]messe-duesseldorf.de
URL:  http://www.messe-duesseldorf.de
PROJECT TEAM
Phone: +49 211 4560-01
Fax: +49 211 4560-668
Email: info[@]valveworldexpo.com
Website: http://www.valveworldexpo.com
---
How to get to Valve World Expo


On foot:
from Dusseldorf Hbf is 1h 30 min walk or 30 min with a bicycle
1h 5 min with a walk or 25 min with a bike
By car:
from Dusseldorf Hauptbahnhof the ride will take you 30 min (~9 km)
from the airport there are only 15 to 20 min (~9km)
By public transport:
From the Dusseldorf Central Station U-Bahn Nr U78 will get you there for 26 min
From Dusseldorf International Airport to Messeplatz you need to change transport with either of this 3 options:
– From Airpot Terminals A/B/C: 6 stops with Bus 760 to Freiligrathplatz and then U78 to MERKUR SPIEL-ARENA/Messe Nord and within 7 min walking distance you will reach the Messe*
– SB51 from Flughafen Terminal A/B/C to Theodor-Heuss-Brücke and then with U78 to MERKUR SPIEL-ARENA/Messe Nord and within walking distance you will reach the Messe*
– from Terminals A/B/C take bus 721 for 6 stops to 'Am Hain', transfer to bus 722 for another 4 stops to Messe Congress Center and within walking distance you will reach the Messe*
* every choice will take you from 30 to 40 min
[/td_block_text_with_title][td_flex_block_1 modules_on_row="" hide_audio="yes" image_size="td_150x0″ image_height="100″ image_width="30″ image_floated="float_left" image_radius="100″ meta_padding="0 0 0 15px" art_title="8px 0 0 0″ modules_category="above" show_author="none" show_excerpt="none" show_btn="none" show_com="none" block_template_id="" header_color="#dd3333″ category_id="9568″ custom_title="Valve World Expo Exhibitor list"][/vc_column_inner][/vc_row_inner][vc_row_inner][vc_column_inner][tdm_block_image_info_box box_style="style-2″ box_image="https://bhowco.de/wp-content/plugins/td-composer/assets/images/placeholders/thumb_01.jpg" box_title="Branding on German trade fairs Portal" box_description="V2UlMjBhcmUlMjBoZXJlJTIwdG8lMjBoZWxwJTIweW91JTIwZ3JvdyUyMHVwJTIweW91ciUyMGJyYW5kJTIwb24lMjBHZXJtYW4lMjB0cmFkZSUyMGZhaXJzJTIwcG9ydGFsLiUyMFdlJTIwc3VwcG9ydCUyMGFsbCUyMEludGVybmF0aW9uYWwlMjBFeGhpYml0b3JzJTIwaW4lMjBHZXJtYW4lMjB0cmFkZSUyMHNob3dzLg==" box_overlay="eyJ0eXBlIjoiZ3JhZGllbnQiLCJjb2xvcjEiOiJyZ2JhKDMwLDExNSwxOTAsMC43KSIsImNvbG9yMiI6InJnYmEoMCwxOSwzOCwwLjgpIiwibWl4ZWRDb2xvcnMiOltdLCJkZWdyZWUiOiIzMCIsImNzcyI6ImJhY2tncm91bmQ6IC13ZWJraXQtbGluZWFyLWdyYWRpZW50KDMwZGVnLHJnYmEoMCwxOSwzOCwwLjgpLHJnYmEoMzAsMTE1LDE5MCwwLjcpKTtiYWNrZ3JvdW5kOiBsaW5lYXItZ3JhZGllbnQoMzBkZWcscmdiYSgwLDE5LDM4LDAuOCkscmdiYSgzMCwxMTUsMTkwLDAuNykpOyIsImNzc1BhcmFtcyI6IjMwZGVnLHJnYmEoMCwxOSwzOCwwLjgpLHJnYmEoMzAsMTE1LDE5MCwwLjcpIn0=" tds_button="tds_button3″ button_size="tdm-btn-md" button_text="LEARN MORE" button_icon_size="18″ button_tdicon="tdc-font-fa tdc-font-fa-graduation-cap" button_url="https://bhowco.de/about-bhowco"][/vc_column_inner][/vc_row_inner][/vc_column][/vc_row][/tdc_zone]