EuroBLECH Hanover
International technology exhibition for sheet metal working
EuroBLECH Hanover– International technology exhibition for sheet metal working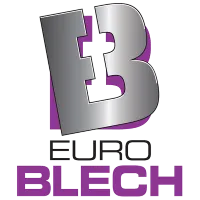 The EuroBLECH Hannover trade fair is an international technology trade fair for sheet metal working.
Around 1,500 exhibitors from over 40 countries present their products and services at the EuroBLECH trade fair in Hanover and represent the complete process and technology chain of sheet metal working.
The range of products includes, among other things, semi-finished products, supplier parts, handling, cutting and forming, flexible sheet metal processing, joining, welding, pipe and profile processing, processing of hybrid structures, surface processing, tools, additive manufacturing, control and regulation technology, CAD, CAM and CIM -Systems, quality assurance, factory equipment and research & development.
The EuroBLECH Hannover presents innovative products and intelligent solutions and is the most important marketplace of this branch of industry for global business and a platform for ideas and know-how.
EuroBLECH and Covid-19
The event will take place as a live exhibition and will feature strict Covid-19 prevention measures, including the latest entry regulations.
Among the safety measures that will be put in place are social distancing, mandatory mask wear, and pre-registration.
Between participants, a social distance of 1.5 meters must be maintained.
They must also complete a registration form ahead of time and provide complete contact information.
The contact form must contain full names, phone numbers, and email addresses.
In indoor areas, apart from exhibition stands, attendees must wear masks.
The EuroBLECH takes place for the 26th time on 4 days from Tue., 25.10.2022 to Fri., 28.10.2022 in Hanover.
Participants can expect strict COVID-19 safety measures to be installed at the venue.
Latest information about Covid-19 & Health policy in Messe Hanover center
---
Industry sector
Metalworking, Welding Technology
---
Main product group
Industrial Health and Safety, Plant Equipment (industrial), Sheet Metal Processing, Plate and Semi-finished Products, Sheet Metal Working, CAD, CAM, CIM, Joints/seam Technology, Used Machineries, hybrid technology, Industrial Measuring Technology, Mechanical Handling, Surface Mount Technology, Quality Assurance, Recycling, Tube Processing, Control Systems, Cutting Technology, Cutting-off Tools, Shaping Tools, Tools, Ancillaries, additive manufacturing, Process Engineering, Process Automation, Data Bases
---
BHowCo is a well-known Digital marketing for German trade fairs.
You can add your listing for free in our International Germany B2B portal .
Connect to the Exhibitors of this trade show (B2B)
FAQ - Frequently Asked Question
When is taking place EuroBLECH?
The EuroBLECH takes place for the 26th time on 4 days from Tue., 25.10.2022 to Fri., 28.10.2022 in Hanover. It is usually in the month of October. biennially 
What is exhibited at EuroBLECH?
At EuroBLECH – International technology exhibition for sheet metal working, there are appointments with national and international exhibitors for Metalworking, Welding Technology, …
Where is taking place EuroBLECH?
EuroBLECH takes place in Hanover, Germany and is held at Messe Hanover Center
Germany B2B
Int. Exhibitors in German trade shows
The first Germany B2B marketplace for International Exhibitors in German trade fairs. Add your listing for free.
EVENT LOCATION
VENUE
Messe Hanover center
DATE
25.10.2022 – 28.10.2022
Tuesday – Friday, 4 days
Past editions:

23. – 26. October 2018

1507 exhibitors from 40 countries
56301 visitors

25. – 29. October 2016

1503 exhibitors from 41 countries
60636 visitors
INTERVAL
biennially
FOUNDED IN
1969
ORGANISER
Mack Brooks Exhibitions Ltd
Romeland House, Romeland Hill
St. Albans Herts AL3 4ET
United Kingdom of Great Britain and Northern Ireland
Tel: +44 1727 814-400
Fax: +44 1727 814-401
Email: info[@]mackbrooks.co.uk
URL:  http://www.mackbrooks.com
PROJECT TEAM
Phone: +44 1727 814-400
Fax: +44 1727 814-401
Email: info[@]euroblech.com
Website: http://www.euroblech.de
---
How to get to EuroBLECH


On foot:
from Hbf ~35 min with a bike 1h 20 min bike ride

By car:
From Haptbahnhof there are ony 20 to 30 min with a car
From Hannover Aiport via A2 for 30 min

By public transport:
From Hbf – S4 to Messe Hanover/Laatzen for 23 min OR take U1, U2 or U8 for 30 to 40 min
From Hannover Aiport take S5 to Hbf and then U8 to Hannover, Messe/Nord (1h 10 min)