boot Dusseldorf
202222jan(jan 22)9:00 am30(jan 30)6:00 pmboot DusseldorfInternational Boat ShowMesse Düsseldorf Center, Messeplatz, 40474 Dusseldorf, GermanyEvent Type Boats, Boat Accessories,Sports & Entertainment & Sporting Goods Event Organized ByMesse Düsseldorf GmbH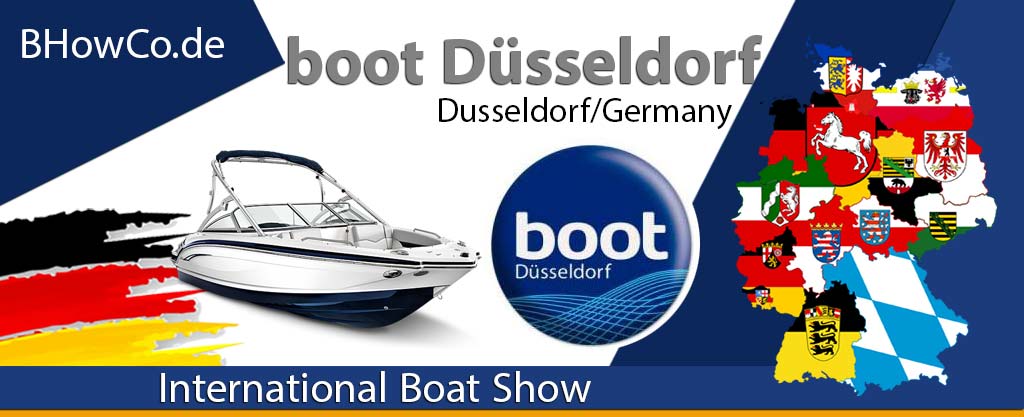 Event Details
boot Dusseldorf
boot Dusseldorf / International Boat Show
This trade show is an important event for the international boating and water sports business held annually in Dusseldorf Messe, Germany.
The last edition of the world's biggest boot and water sports trade fair finished while attracting 240,200 booting and water sports enthusiasts from around 60 countries traveled to Dusseldorf to view the latest products offered by 1,741 exhibitors from 57 countries spread over 17 exhibition halls.
Due to the ongoing pandemic and the worldwide lockdown measures, Messe Düsseldorf decided to cancel boot Düsseldorf 2021.
The next boot will open its doors from 22 to 30 January 2022.
The continuing high level of infection and the not foreseeable lockdown make a resumption of trade fair operations at the end of April appear unrealistic.
Our priority is the health and planning security of our exhibitors, visitors and service providers. Therefore, we decided to cancel early.
In 2022, boot Düsseldorf will return to the known concept and will accompany water sports enthusiasts into a new season.
We're looking forward to open the doors for boot Düsseldorf from 22 to 30 January 2022 and to experience unforgettable adventures.
With international exhibitors, great on-site activities and a fantastic stage program, boot Düsseldorf will relive magical water sports moments.
---
Industry sector in Messe boot Dusseldorf
Boats, Boat Accessories , Sporting Goods
---
Main product group
Boat Accessories, Boat Construction, Boat Trailers, Boats, Canoes/Kajaks, Charter, Diving Equipment, Diving tourism, Emergency Appliances, Engines, Engines for Boats, Equipment, Fishing Equipment, Hang-Gliding, Leisure, Leisure Wear, Motor Yachts, Motorboats, Sailboats, Sailing Yachts, Sports Fishing, Sportswear, Surfing, Surfing Equipment, Tourism, Water Ski, Water Sports, Water Sports Articles, Waterski Equipment, Water sports Facilities, Windsurfing, Facilities, Water Sports, Navigation Technology, Ship's Equipments
---
BHowCo is a well-known Digital marketing for German trade fairs.
You can add your listing for free in our International Germany B2B portal .
Connect to the Exhibitors of this trade show (B2B)
Health Guidelines for this Event
Temperature Checked At Entrance
Physical Distance Maintained
Time

22 (Saturday) 9:00 am - 30 (Sunday) 6:00 pm(GMT+01:00) View in my time
Messe Düsseldorf CenterMesseplatz, 40474 Dusseldorf, Germany
Event Reviews
There are no reviews for this event