Offenbach

Exhibition

Center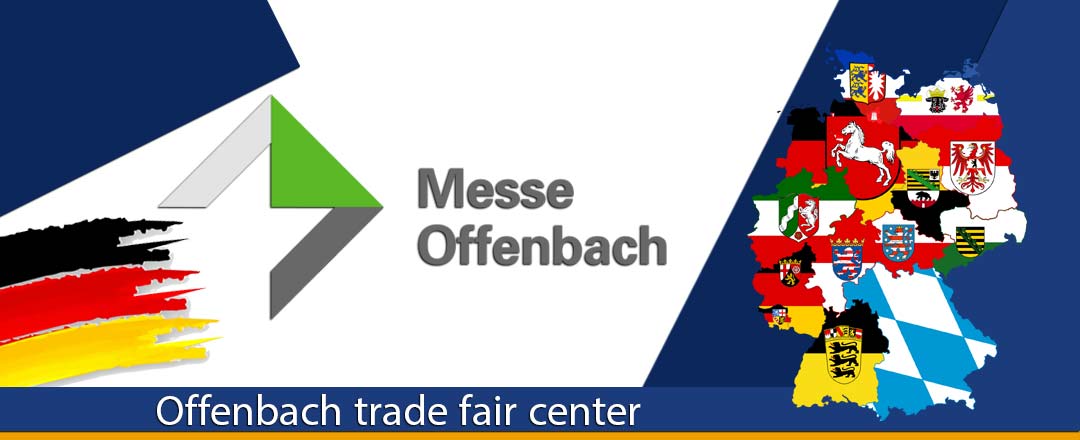 Messe Offenbach Center in Offenbach am Main (in Hesse), Germany, located on the left bank of the river Main and part of the Frankfurt Rhein-Main urban area.
With the motto "Small but perfectly formed", here is the home of the leather industry.
With over 19,000 m² on four levels, it is also flexible, offering plenty of room for future growth of new trade fair projects.
It all started in 1949/50 with what is today the ILM (International Leather Goods Fair), which is still a firm part of the Messe Offenbach event calendar and is held twice a year.
Today, the grounds of Messe Offenbach host numerous trade fairs and events every year.
The city of Offenbach
The Rhine-Main metropolitan region is among Germany's economic powerhouses.
Around 2.5 million people live in the Frankfurt/Rhine-Main area alone, and the international, colorful and cosmopolitan city of Offenbach is right in the middle.
Event organizers, exhibitors and visitors particularly appreciate its special, modern and creative flair.
The multi-faceted nature of Offenbach makes it a truly cosmopolitan host for numerous trade fairs and events.
Whether you plan to travel by car, plane or using public transport, the short distances involved are a characteristic feature of Offenbach as a trade fair location.
Many international hotels are within walking distance.
The restaurants in Nordend and the newly designed harbor district are close by, and the thrilling Frankfurt city life is just on the other side of the river Main.
Directions to Messe Offenbach center
You can reach Messe Offenbach quickly and easily thanks to its central location.
When travelling via the A3, A5 and A661 motorways, the Kaiserlei exit (A661) will take you directly to the trade fair center.
From Frankfurt Airport, the local train lines (S-Bahn) S8 and S9 towards Hanau will take you directly to Offenbach in just 28 minutes.
Messe Offenbach center is then just a few minutes on foot from the "Marktplatz" stop.
You can also benefit from a perfectly integrated rail and public transport network thanks to the proximity to Frankfurt's main railway station.
The distances to the exhibitor and visitor car parks on the Main banks (P1) and on Nordring (P2) are even shorter; these can be reached in a few minutes on foot or by shuttle bus.
Offenbach Exhibition Address
Kaiserstraße 108-112, 63065 Offenbach am Main, Deutschland
Phone: +49 69 82 97 55-0
Fax: +49 69 82 97 55-60
Email: info[@]messe-offenbach.de
presse[@]messe-offenbach.de
Website: www.messe-offenbach.de
tue

12/05
wed

12/06
thu

12/07
fri

12/08
sat

12/09
DOMOTEX – The Leading Flooring Exhibition The world's foremost trade exhibition for flooring and carpets, DOMOTEX, will once again b...
Add listing for International Exhibitors in German trade fairs
Creative Services For German Trade fairs
We are trying to prepare great experience for you in German trade fairs and offer creative services to grow up your brand by international digital marketing and face to face marketing in German trade fairs by proffesional team.
Hostess & Promoters
Proffesional marketing team for International trade fairs in Germany
Hostess & Promoters
Trending Articles
All

Hannover Messe 2023

HANNOVER MESSE digital marketing

Hannover Messe Floor Plan

HANNOVER MESSE ticket price

DOMOTEX – The Leading Flooring Exhibition The world's foremost trade exhibition for flooring and carpets,…
Have a query? Please check this question and answers
Add listing for International Exhibitors in German trade fairs