[tdc_zone type="tdc_content"][vc_row flex_layout="row"][vc_column width="2/3″][tdm_block_title_over_image title_size="tdm-title-md" open_in_new_window="yes" image_alignment="center" media_size_image_height="122″ media_size_image_width="300″ image="35029″ block_height="280″ tdc_css="eyJhbGwiOnsic2hhZG93LXNpemUiOiI2Iiwic2hhZG93LW9mZnNldC1oIjoiNCIsInNoYWRvdy1vZmZzZXQtdiI6IjQiLCJkaXNwbGF5IjoiIn19″][tdb_single_post_share][td_block_ad_box spot_img_horiz="content-horiz-center" media_size_image_height="37″ media_size_image_width="300″ spot_img_all="35702″ spot_url="https://bhowco.de/advertise-on-bhowco/" spot_url_window="yes" tdc_css="eyJhbGwiOnsicGFkZGluZy1ib3R0b20iOiIxMCIsImRpc3BsYXkiOiIifX0="][tdm_block_column_title title_text="QW51Z2ElMjBGb29kVGVjJTIwQ29sb2duZQ==" title_tag="h2″ title_size="tdm-title-md" tds_title="tds_title3″ tds_title3-title_color="#dd3333″ tds_title3-subtitle_text="The international supplier fair for the food and drink industry" tds_title3-line_width="300″ tds_title3-subtitle_space="10″ tds_title3-f_subtitle_font_style="normal" tds_title3-f_subtitle_font_weight="400″ tds_title3-f_subtitle_font_transform="none" tds_title3-subtitle_color="#000000″ tds_title3-line_color="eyJ0eXBlIjoiZ3JhZGllbnQiLCJjb2xvcjEiOiIjMjMyZDM1IiwiY29sb3IyIjoiIzIzMmQzNSIsIm1peGVkQ29sb3JzIjpbXSwiZGVncmVlIjoiLTkwIiwiY3NzIjoiYmFja2dyb3VuZC1jb2xvcjogIzIzMmQzNTsiLCJjc3NQYXJhbXMiOiIwZGVnLCMyMzJkMzUsIzIzMmQzNSJ9″ tdc_css="eyJhbGwiOnsiZGlzcGxheSI6IiJ9fQ==" tds_title3-line_space="15″][td_block_text_with_title custom_title="Anuga FoodTec trade show" tdc_css="eyJhbGwiOnsicGFkZGluZy10b3AiOiIxNSIsInBhZGRpbmctcmlnaHQiOiIxNSIsInBhZGRpbmctYm90dG9tIjoiMTUiLCJwYWRkaW5nLWxlZnQiOiIxNSIsInNoYWRvdy1zaXplIjoiNiIsInNoYWRvdy1vZmZzZXQtaCI6IjQiLCJzaGFkb3ctb2Zmc2V0LXYiOiI0IiwiYmFja2dyb3VuZC1jb2xvciI6IiNlZmVmZWYiLCJkaXNwbGF5IjoiIn19″]
Anuga FoodTec – Leading trade fair for the food and beverage supplier industry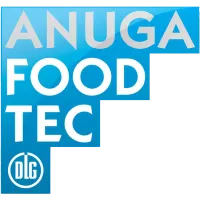 Anuga FoodTec is the only trade fair in the world which covers the entire spectrum of food production – from processing to packaging and storage.
And this covering all food industries. For the global food and beverage industry, Anuga FoodTec is the leading platform for information and purchasing.
Every 3 years, Anuga FoodTec is the hotspot of the worldwide food and beverage industry and its suppliers and THE meeting point for visionaries and decision-makers.
With over 50,000 trade visitors from 154 countries and around 1,700 exhibitors, Anuga FoodTec registered record values in 2018.
Industry 4.0 opens up fully new opportunities to the companies of the food and beverage industry in terms of networking and the automation of their processes.
The prerequisite for this is the connection of intelligent production, packing and logistics systems – the foundation stone for a smart factory.
The exhibitors of Anuga FoodTec bring all key sections of the industry together in one location and show live and in action how the digital transformation can be successfully designed and implemented – across all industries and processes.
---
Industry sector on Messe Anuga FoodTec
Food Processing and Packaging Machinery
---
Main product group on Messe Anuga FoodTec
Meat Processing Machinery, Vegetable Processing, Fruit Processing, Dairy Products, Luxury Foodstuff, Flavorings, Spices, Packaging Technology, Automation, Data Processing Installations, Regulating and Control Technology, Quality Control, Quality Assurance, Analysis Technology, Laboratory Technology, Measuring Equipment, Environmental Engineering, Biotechnology, Environment Protection, Industrial Health and Safety, Fire Prevention, Energy Engineering, Water Technology, Building Parts, Surface Mount Technology, Refrigeration Technology, Air Conditioning, Conveying Equipment, Logistics, processing of beverages and milk
---
BHowCo is a well-known Digital marketing for German trade fairs.
You can add your listing for free in our International Germany B2B portal .
Connect to the Exhibitors of this trade show (B2B)
[/td_block_text_with_title][td_block_text_with_title custom_title="FAQ" block_template_id="td_block_template_8″ header_text_color="#dd3333″]
When does Anuga Foodtec 2022 take place?
Anuga Foodtec is taking place from 26 April 2022 to 29 April 2022. Anuga Foodtec is a trade show triennial held in Cologne. Usually in the month of April.
What is exhibited in Anuga Foodtec?
In Anuga Foodtec there are appointments with national and international exhibitors Alimentary, Food technology, Food processing, Food, …
Where is taking place Anuga Foodtec?
Anuga Foodtec takes place in Cologne, Germany and is held at Koeln Messe on the street Koelnmesse GmbH Messeplatz 1 in city.
[/td_block_text_with_title][vc_row_inner][vc_column_inner][td_block_ad_box spot_img_horiz="content-horiz-center" media_size_image_height="37″ media_size_image_width="300″ spot_img_all="35702″ spot_url="https://bhowco.de/advertise-on-bhowco/" spot_url_window="yes" tdc_css="eyJhbGwiOnsicGFkZGluZy1ib3R0b20iOiIxMCIsImRpc3BsYXkiOiIifX0="][td_block_19 custom_title="Featured Exhibitors in Messe Anuga FoodTec" limit="6″ category_id="8573″ header_color="#dd3333″][/vc_column_inner][/vc_row_inner][vc_row_inner][vc_column_inner][tdm_block_text_image title_text="R2VybWFueSUyMEIyQg==" title_tag="h3″ title_size="tdm-title-md" description="VGhlJTIwZmlyc3QlMjBHZXJtYW55JTIwQjJCJTIwbWFya2V0cGxhY2UlMjBmb3IlMjBJbnRlcm5hdGlvbmFsJTIwRXhoaWJpdG9ycyUyMGluJTIwR2VybWFuJTIwdHJhZGUlMjBmYWlycy4lMjBKb2luaW5nJTIwdXMlMjBmb3IlMjBmcmVlLg==" button_text="Learn More" button_tdicon="tdc-font-fa tdc-font-fa-chevron-right" button_size="tdm-btn-lg" image="37563″ content_align_vertical="content-vert-center" tds_title="tds_title3″ tdc_css="eyJhbGwiOnsicGFkZGluZy1yaWdodCI6IjEwIiwicGFkZGluZy1sZWZ0IjoiMTAiLCJzaGFkb3ctc2l6ZSI6IjYiLCJzaGFkb3ctb2Zmc2V0LWgiOiI0Iiwic2hhZG93LW9mZnNldC12IjoiNCIsImJhY2tncm91bmQtY29sb3IiOiIjMjMyZDM1IiwiZGlzcGxheSI6IiJ9fQ==" description_color="#ffffff" button_open_in_new_window="yes" tds_button="tds_button8″ tds_button8-background_color="eyJ0eXBlIjoiZ3JhZGllbnQiLCJjb2xvcjEiOiIjZGQ5OTMzIiwiY29sb3IyIjoiIzRkYjJlYyIsIm1peGVkQ29sb3JzIjpbXSwiZGVncmVlIjoiLTYwIiwiY3NzIjoiYmFja2dyb3VuZDogLXdlYmtpdC1saW5lYXItZ3JhZGllbnQoLTYwZGVnLCM0ZGIyZWMsI2RkOTkzMyk7YmFja2dyb3VuZDogbGluZWFyLWdyYWRpZW50KC02MGRlZywjNGRiMmVjLCNkZDk5MzMpOyIsImNzc1BhcmFtcyI6Ii02MGRlZywjNGRiMmVjLCNkZDk5MzMifQ==" media_size_image_height="212″ media_size_image_width="300″ tds_title3-subtitle_text="Int. Exhibitors in German trade shows" tds_title3-line_width="165″ tds_title3-subtitle_color="#dd3333″ tds_title3-title_color="eyJ0eXBlIjoiZ3JhZGllbnQiLCJjb2xvcjEiOiIjZjRhNTFkIiwiY29sb3IyIjoiI2VmZWZlZiIsIm1peGVkQ29sb3JzIjpbXSwiZGVncmVlIjoiIiwiY3NzIjoiYmFja2dyb3VuZDogLXdlYmtpdC1saW5lYXItZ3JhZGllbnQoMGRlZywjZWZlZmVmLCNmNGE1MWQpO2JhY2tncm91bmQ6IGxpbmVhci1ncmFkaWVudCgwZGVnLCNlZmVmZWYsI2Y0YTUxZCk7IiwiY3NzUGFyYW1zIjoiMGRlZywjZWZlZmVmLCNmNGE1MWQifQ=="][/vc_column_inner][/vc_row_inner][vc_row_inner][vc_column_inner][/vc_column_inner][/vc_row_inner][vc_row_inner][vc_column_inner][td_block_video_embed video_url="https://youtu.be/htED-LiiJs4″ tdc_css="eyJhbGwiOnsic2hhZG93LXNpemUiOiI2Iiwic2hhZG93LW9mZnNldC1oIjoiNCIsInNoYWRvdy1vZmZzZXQtdiI6IjQiLCJjb250ZW50LWgtYWxpZ24iOiJjb250ZW50LWhvcml6LWNlbnRlciIsImRpc3BsYXkiOiIifX0="][/vc_column_inner][/vc_row_inner][tdb_single_post_share][/vc_column][vc_column width="1/3″][td_block_text_with_title custom_title="Advance search" block_template_id="td_block_template_8″ header_text_color="#dd3333″]
[/td_block_text_with_title][td_block_ad_box spot_img_horiz="content-horiz-center" media_size_image_height="250″ media_size_image_width="300″ spot_img_all="35700″ tdc_css="eyJhbGwiOnsibWFyZ2luLXRvcCI6Ii0xNSIsInBhZGRpbmctdG9wIjoiMjAiLCJwYWRkaW5nLWJvdHRvbSI6IjIwIiwic2hhZG93LXNpemUiOiI2Iiwic2hhZG93LW9mZnNldC1oIjoiNCIsInNoYWRvdy1vZmZzZXQtdiI6IjQiLCJkaXNwbGF5IjoiIn19″][vc_empty_space][vc_row_inner][vc_column_inner][td_block_weather tdc_css="eyJhbGwiOnsic2hhZG93LXNpemUiOiI3Iiwic2hhZG93LW9mZnNldC1oIjoiNCIsInNoYWRvdy1vZmZzZXQtdiI6IjUiLCJiYWNrZ3JvdW5kLWNvbG9yIjoiIzFlNzNiZSIsImRpc3BsYXkiOiIifX0=" custom_title="Cologne Weather" w_key="81be1bb57dd6cca35a188b102bea2ec6″ w_location="Cologne" header_color="#dd3333″ city_color="#ffffff" condition_color="#eff7f5″ frcst_temp_color="#dd8604″ temp_color="#dd9933″ frcst_day_color="#ffffff" sep_color="#eff7f5″][/vc_column_inner][/vc_row_inner][td_block_text_with_title custom_title="Anuga FoodTec 2022″ block_template_id="td_block_template_8″ header_text_color="#dd3333″]
[waiting name="2022 Anuga FoodTec"]
[/td_block_text_with_title][vc_row_inner][vc_column_inner][td_block_text_with_title custom_title="Anuga FoodTec Trade Show" header_color="#dd3333″ tdc_css="eyJhbGwiOnsicGFkZGluZy10b3AiOiIxNSIsInBhZGRpbmctcmlnaHQiOiIxNSIsInBhZGRpbmctYm90dG9tIjoiMTUiLCJwYWRkaW5nLWxlZnQiOiIxNSIsInNoYWRvdy1zaXplIjoiNiIsImJhY2tncm91bmQtY29sb3IiOiIjZGQ5OTMzIiwiZGlzcGxheSI6IiJ9fQ=="]
EVENT LOCATION
VENUE
Messe Cologne center
DATE
26.04.2022 – 29.04.2022
Tuesday – Friday, 4 days
Past editions:

20. – 23. March 2018
24. – 27. March 2015

1500 exhibitors from 49 countries
45000 visitors
INTERVAL
EVERY THREE YEARS
FOUNDED IN
1996
ORGANISER
Koelnmesse GmbH
Messeplatz 1
50679 Cologne
Germany
Tel: +49 221 821-0
Fax: +49 221 821-2574
Email: info[@]koelnmesse.de
URL:  http://www.koelnmesse.de
PROJECT TEAM
Phone: +49 221 821-2647
Fax: +49 221 821-3414
Email: aft[@]koelnmesse.de
Website: http://www.anugafoodtec.de
---
How to get to Anuga FoodTec
On foot:
Cologne Bonn Airport – not advisable Cologne Central Station – 30 mins via Hohenzollernbrücke
By car:
Cologne Bonn Airport – 20 mins via A559 and Östliche Zubringerstraße/L124 Cologne Central Station – 10 mins via Auenweg
By public transport:
Cologne Bonn Airport – 30 mins via S19 transport Cologne Central Station – 10 mins via S-Bahn S6/12/9
[/td_block_text_with_title][td_flex_block_1 modules_on_row="" hide_audio="yes" image_size="td_150x0″ image_height="100″ image_width="30″ image_floated="float_left" image_radius="100″ meta_padding="0 0 0 15px" art_title="8px 0 0 0″ modules_category="above" show_author="none" show_excerpt="none" show_btn="none" show_com="none" block_template_id="" header_color="#dd3333″ category_id="2890″ custom_title="Anuga FoodTec Exhibitor list"][/vc_column_inner][/vc_row_inner][vc_row_inner][vc_column_inner][tdm_block_image_info_box box_style="style-2″ box_image="https://bhowco.de/wp-content/plugins/td-composer/assets/images/placeholders/thumb_01.jpg" box_title="Branding on German trade fairs Portal" box_description="V2UlMjBhcmUlMjBoZXJlJTIwdG8lMjBoZWxwJTIweW91JTIwZ3JvdyUyMHVwJTIweW91ciUyMGJyYW5kJTIwb24lMjBHZXJtYW4lMjB0cmFkZSUyMGZhaXJzJTIwcG9ydGFsLiUyMFdlJTIwc3VwcG9ydCUyMGFsbCUyMEludGVybmF0aW9uYWwlMjBFeGhpYml0b3JzJTIwaW4lMjBHZXJtYW4lMjB0cmFkZSUyMHNob3dzLg==" box_overlay="eyJ0eXBlIjoiZ3JhZGllbnQiLCJjb2xvcjEiOiJyZ2JhKDMwLDExNSwxOTAsMC43KSIsImNvbG9yMiI6InJnYmEoMCwxOSwzOCwwLjgpIiwibWl4ZWRDb2xvcnMiOltdLCJkZWdyZWUiOiIzMCIsImNzcyI6ImJhY2tncm91bmQ6IC13ZWJraXQtbGluZWFyLWdyYWRpZW50KDMwZGVnLHJnYmEoMCwxOSwzOCwwLjgpLHJnYmEoMzAsMTE1LDE5MCwwLjcpKTtiYWNrZ3JvdW5kOiBsaW5lYXItZ3JhZGllbnQoMzBkZWcscmdiYSgwLDE5LDM4LDAuOCkscmdiYSgzMCwxMTUsMTkwLDAuNykpOyIsImNzc1BhcmFtcyI6IjMwZGVnLHJnYmEoMCwxOSwzOCwwLjgpLHJnYmEoMzAsMTE1LDE5MCwwLjcpIn0=" tds_button="tds_button3″ button_size="tdm-btn-md" button_text="LEARN MORE" button_icon_size="18″ button_tdicon="tdc-font-fa tdc-font-fa-graduation-cap" button_url="https://bhowco.de/about-bhowco"][/vc_column_inner][/vc_row_inner][/vc_column][/vc_row][/tdc_zone]