Friedrichshafen

Exhibition

Center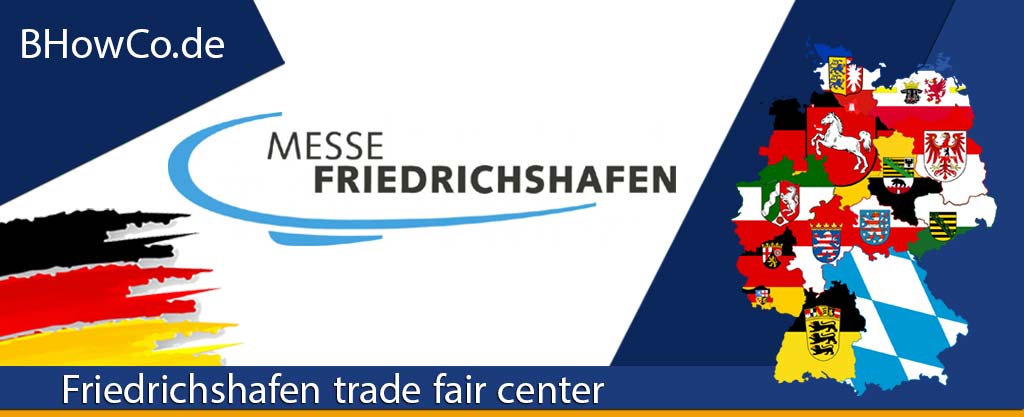 Located at the north of the city of Friedrichshafen as an industrial city, near to the airport.
Friedrichshafen trade fair Center is another exhibition center located in Germany, attracting around 600.000 visitors coming to visit around 6.000 exhibitors.
Friedrichshafen is an important tourist and recreation center around Lake Constance, known as the "birth place of Germany's aviation".
Between 15 and 17 international trade fairs and exhibitions taking place at Messe Friedrichshafen Center.
Having twelve halls with 85,000 sqm space, an open air exhibition ground with 12,000 sqm and 8,500 parking spaces for visitors and exhibitors.
Friedrichshafen exhibition is one of the popular destination of the TV productions, sporting events and concerts.
Hall A1 is the biggest space on the site, taking up to 10,500 people.
Friendliness, authenticity, commitment, solution oriented, service oriented, partnership and reliable: all can determine the Messe Friedrichshafen Center.
Room for conferences, seminars or congresses equipped with cutting-edge technology, looking forward to host you. Conferences centers at the East, West and Hall A2 are the ready to adopt to your need, providing the exact right setting for your profession.
Conference Center East:
• 20 rooms with space for up to 360 people
• 3,000 m² Event Foyer
Conference Center West:
• 9 rooms with space for up to 470 people
• Foyer west (Conference Center) with 4,500 m² floor space
Conference-Hall A2:
• Space for 4,500 people, can be split into three modules
Friedrichshafen exhibition Address
Messe Friedrichshafen GmbH
Neue Messe 1, 88046 Friedrichshafen, Germany
Tel: +49 7541 708-0
Fax: +49 7541 708-110
Official website: www.messe-friedrichshafen.de
Email: info[at]messe-fn.de
sun

04/02
mon

04/03
tue

04/04
wed

04/05
thu

04/06
2023-2024
Friedrichshafen TRADE FAIRS CALENDAR
INTERNATIONAL EXHIBITIONS
Add listing for International Exhibitors in German trade fairs
Creative Services For German Trade fairs
We are trying to prepare great experience for you in German trade fairs and offer creative services to grow up your brand by international digital marketing and face to face marketing in German trade fairs by proffesional team.
Hostess & Promoters
Proffesional marketing team for International trade fairs in Germany
Hostess & Promoters
Have a query? Please check this question and answers
Add listing for International Exhibitors in German trade fairs