202127nov(nov 27)9:00 am05dec(dec 5)6:00 pmESSEN MOTOR SHOWThe performance festival for performance series vehicles, tuning, motorsports and classic cars Event Organized By: Messe Essen GmbH Event Type :Automobiles,Vehicles (Cars, Commercial Vehicles, Motorcycles, Caravans, Parts & Accessories)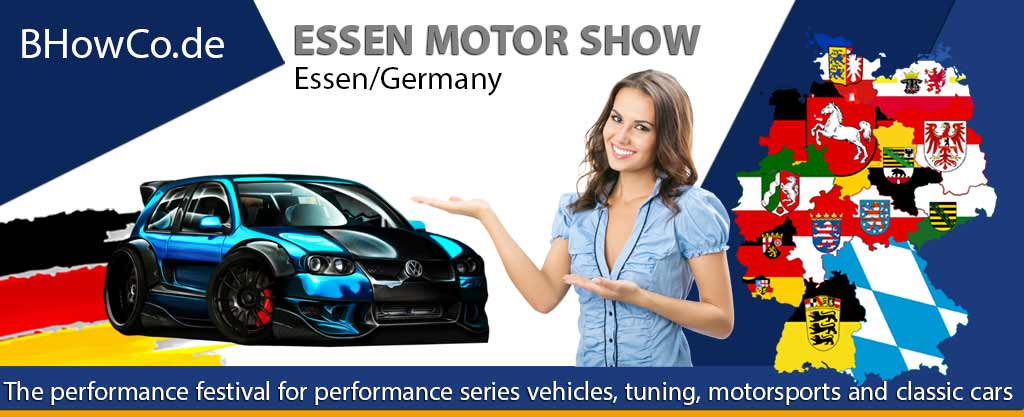 Event Details
ESSEN MOTOR SHOW
The performance festival for performance series vehicles, tuning, motorsports and classic cars
SPORTY SERIES VEHICLES
Those who want to have their gas foot in touch with the latest trends come to the Essen Motor Show.
Hardly an industry is currently developing as fast as the automobile industry, and the trade exhibition in Essen is an ideal platform in order to present new products and innovations to a most welcoming public.
Therefore, our exhibitors are also increasingly presenting their sports series cars in Essen.
TUNING & LIFESTYLE
When it comes to tuning, there is no way to get around the Essen Motor Show.
The EMS not only represents the finale of a motorsport season, it is also the starting gun for the tuners who stock up with new parts in Essen.
MOTORSPORTS
Absolute control over power and dynamics – the appeal of motorsport lies in the mastery of almost indomitable power.
When the steering wheel vibrates promisingly in your hands and the engine roars challengingly at the touch of the accelerator pedal – that is the fascination of motorsport.
CLASSIC CARS
The passion for Classic Cars can be compared with the love for a good wine.
Like them Classic Cars are an expression of taste and style;
but they are likewise investment property and collectors' items.
And just like with good wines there are also real connoisseurs in the modern classic and antique car segments.
---
Industry sector in Messe ESSEN MOTOR SHOW
Vehicles (Cars, Commercial Vehicles, Motorcycles, Caravans, Parts and Accessories)
---
Main product group
Cars, Car Equipment, Car Accessories, Car Tuning, Oldtimer, Accessories, Services
---
BHowCo is a well-known Digital marketing for German trade fairs.
You can add your listing for free in our International Germany B2B portal .
Connect to the Exhibitors of this trade show (B2B)
Health Guidelines for this Event
Temperature Checked At Entrance
Physical Distance Maintained
Time

November 27 (Saturday) 10:00 am - December 5 (Sunday) 7:00 pm(GMT+01:00) View in my time
Future Event Times in this Repeating Event Series
december 3, 2022 9:00 am - december 11, 2022 6:00 pm
Messe Essen CenterMesseplatz 1, D-45131 Essen, Germany.
Event Reviews
There are no reviews for this event