GrindTec Augsburg
International Trade Fair for Grinding Technology
GrindTec Augsburg trade show
GrindTec Augsburg – International Trade fair for grinding technology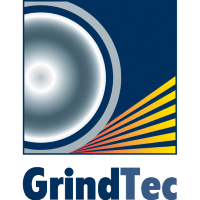 In 1998, GrindTec celebrated its successful premiere as a specialist trade fair for tool grinding technology.
Subsequently it very quickly developed into the leading international platform for grinding technology.
Today, the range of products and services also includes surface treatment techniques such as honing and lapping.
But tool grinding is still one of the core offers at the GrindTec as well.
The GrindTec trade fair in Augsburg is an international trade fair for grinding technology.
More than 500 national and international exhibitors present themselves at the GrindTec Messe Augsburg and show a comprehensive range with many innovations, solutions and world premieres in the field of grinding technology and tool grinding technology.
The areas on offer at the grinding technology fair in Augsburg include tool processing systems, grinding machines, technology, machine peripherals, process technology, process peripherals, management and planning, as well as education, research and development and also corresponding services.
There are also numerous research facilities on campus, which present the latest in research and development in modern tool and grinding technology.
An extensive supporting program with numerous different specialist lectures and informative discussions in the forum, as well as the competence center for grinding technology, also make the GrindTec in Augsburg the world's leading trade fair for grinding technology.
GrindTec and Covid-19
What applies to visitors? (As of 02/2022)
Admission requirements:
 Purchase of a ticket valid on the day of the event. Tickets are available in particular from the
event's online shop.
 Fair admission for visitors if proof of 2G (Vaccinated or Recovered) is provided.
Vaccinated = fully vaccinated as of 14 days after final vaccination, valid for a
maximum of 9 months after basic immunization
Recovered = the currently valid government regulations apply here.
Children = up to the age of 14, a 2G check is not required for children.
Schoolchildren who are older than 14 years of age are then
under the verification obligations!
Compulsory mask-wearing:
 The wearing of an FFP2 mask indoors is mandatory, except at tables
 In outdoor areas / open-air grounds: obligation to wear an FFP2 mask if the minimum
distance cannot be maintained.
 In catering areas, the currently valid hygiene concept for the Bavarian catering industry
applies.
Attention
 Children up to six years of age are exempt from the mask requirement.
 For guests from abroad: most digital certificates are recognized.
In case of doubt, please contact us.
---
Industry sector
Surface Treatment Technology, Metalworking, Welding Technology …
---
Main product group
Grinding Machines, Abrasives, Chucking Tools, Testing Equipment, Measuring Equipment, Machine Tools, Precision Tools, Disposal, Services, Software
---
BHowCo is a well-known Digital marketing for German trade fairs.
You can add your listing for free in our International Germany B2B portal .
Connect to the Exhibitors of this trade show (B2B)
When is taking place GrindTec?
GrindTec is taking place from 15 March 2022 to 18 March 2022. GrindTec is a trade show bienal held in Munich. Usually in the month of March.
What is exhibited at GrindTec?
In GrindTec Augsburg there are appointments with national and international exhibitors Surface treatment, Metallurgy, Smelting,…
Where is taking place GrindTec?
GrindTec takes place in Munich, Germany and is held at Messezentrum Augsburg on the street Am Messezentrum 5 in city.
Germany B2B
Int. Exhibitors in German trade shows
The first Germany B2B marketplace for International Exhibitors in German trade fairs. Add your listing for free.
EVENT LOCATION
VENUE
Messe Augsburg center
DATE
15/03/-18/03/2022
INTERVAL
EVERY TWO YEARS
FOUNDED IN
1998
ORGANISER
AFAG Messen und Ausstellungen GmbH
Am Messezentrum 5
86159 Augsburg
Germany
Tel: +49 821 58982-0
Fax: +49 821 58982-300
Email: info[@]afag.de
URL:  http://www.afag.de
PROJECT TEAM
Phone: +49 821 58982-390
Fax: +49 821 58982-399
Email: info[@]grindtec.de
Website: http://www.grindtec.de
---
How to get to GrindTec

On foot:
from Augsburg Hauptbahnhof – 53 min or 20 min bike ride
from Airport Augsburg 2h 30 min walking (not recommended 😉 ) or 45 min bike ride
By car:
from Augsburg Hauptbahnhof it is 11 min car ride
from Airport Augsburg ~20 min
By public transport:
from Augsburg Hauptbahnhof take trane BRB for 2 stops (7 min)
no suitable public transportation from the nearest airport